Phinda rock lodge
Andbeyond collection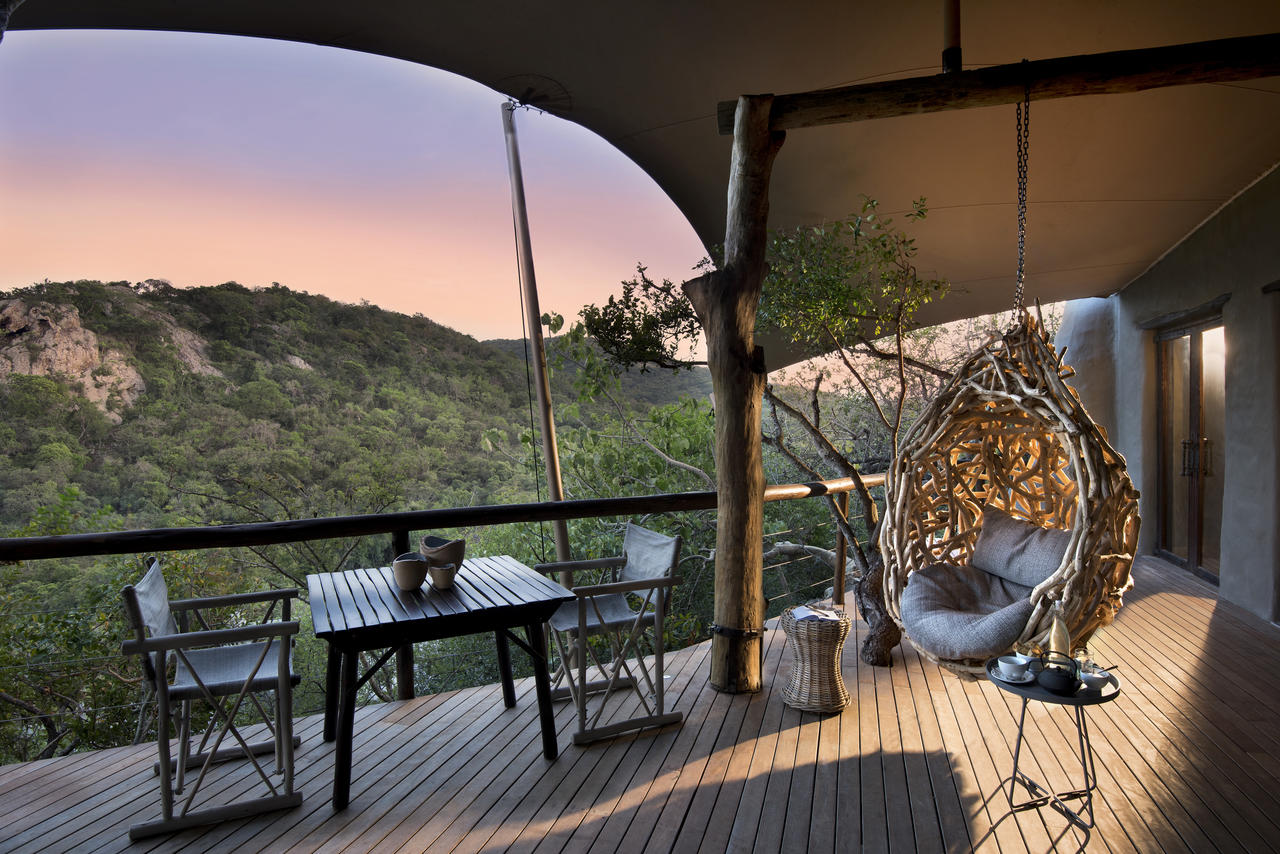 Overview
Dramatically set into a cliff-face overlooking spectacular Leopard Rock, the unique Rock Lodge at &Beyond Phinda Private Game Reserve is an architectural fascination. Its six suites are seemingly suspended over the deep valley below, providing breathtaking views. Each romantic suite, constructed from contoured stone and adobe, boasts solid wooden shutters and doors, opening onto a private plunge pool and viewing deck. Complete with spacious ensuite bathrooms, these sublime suites also feature outdoor showers, providing some of the most scenic al fresco bathing on the African continent. The Lodge's comfortable sitting areas are the perfect vantage point for viewing the abundant wildlife roaming the bushveld below. This is an intimate lodge, where guests are treated like treasured family members and time is shared with fellow safari adventurers who soon become friends. Striking sunsets are witnessed from the game viewing deck suspended over Africa's bushveld, and delicious Pan African meals are served in the dining area under hand-wrought chandeliers.
Rooms:
Suite(s)
Exceptional suites perched on the side of a rocky cliff. Each has a spacious bedroom with bath, shower, twin hand basins and seperate wc. All suites have their own private plunge pool and deck offering unrivalled views of spectacular Leopard Rock and the valley below.
Activities & features:
Game Drives
Enjoy early morning and late afternoon game drives that continue after nightfall. &Beyond's professionally trained guides will ask you about your favourite wildlife and will do their best to ensure that your preferences are met, whether it is tracking a particular species or spending more time enjoying each sighting and getting to know the habits of the animals. They will also tell you about the vegetation of the region and will explain the behaviour of the animals that you come across. In some cases, the guides will be able to identify individual animals and let you know about their history and habits.
andBeyond Phinda Private Game Reserve is renowned for its exceptional sightings of the elusive cheetah and the rare black rhino, as well as the Big Five. There is also a number of resident lion prides and rangers will do their best to provide you with an exceptional sighting of all of these animals.
Maputaland Beach Adventure
The vast sandy beaches of the Maputaland coastline provide a beautiful setting for a half-day beach outing. Soak up the sun, splash in the warm waters of the Indian Ocean, relax with a good book, play beach games, take leisurely walks along the shoreline or snorkel alongside Jesser Point, a protected marine reserve.
Indian Ocean Scuba Safari
Recognised as one of the top ten dive sites in the world, Sodwana Bay offers an abundance of fish and marine life throughout the year. The gullies, ledges and pinnacles of the coral reef are home to more than 1 200 fascinating fish species.
Black Rhino Tracking On Foot
Slip on a pair of walking shoes and spend the morning with an expert ranger and tracker to find the rare and endangered black rhino on foot. Follow rhino tracks, recognise rhino middens and scratching posts, and read the signs of the bush in search of your quarry.
Turtle Nesting Adventure
For four months during the southern hemisphere summer, the enormous leatherback and loggerhead turtles emerge from the Indian Ocean at Sodwana Bay to lay their precious eggs in the sand. As the moon rises over the ocean, excitement grows as you drive along the deserted coastline in search of fresh turtle tracks that emerge from the ocean and travel along the beach in search of a suitable nesting site. Watch as the female turtle digs her nest and lays her clutch of up to a hundred eggs.
Available November to February.
Zulu Village Tour
Visit a Zulu community just outside andBeyond Phinda Private Game Reserve and interact with the friendly Zulu people. An expert andBeyond guide will escort you through the community and share interesting insight into the Zulu culture and its fascinating customs, beliefs and traditions. You will be invited into a traditional homestead and given the rare opportunity to witness the daily routines and lifestyle of a rural Zulu family. Learn about the family structures, how the homes are built, why cattle are so highly revered, and much more. Later, you will spend time with the highly respected local sangoma (witch doctor/traditional healer) who will explain the wonders of Zulu ancestry and their spiritual beliefs. The adventure ends with a quick stop at the Mbhedula Craft Market, where the beautiful handiwork of 43 Zulu crafters is showcased. It's a great place to find that perfect souvenir of your time spent with the Zulu people.
Luxury Walking Safari
For those looking for an active thrill beyond the excitement of Big Five sightings on a game drive vehicle, andBeyond's Luxury Walking Safaris offer an opportunity to connect with the African bush, interacting with all its inhabitants, from largest to smallest. Embark on an adventure where your feet tread in the tracks of zebra and buffalo, your nostrils fill with the scent of crushed wild grasses as you push through the bush and all six senses re-awaken as Africa touches you and you touch Africa.
Tracking Adventure
Experience the thrill of tracking animals on foot, accompanied by an armed specialist ranger and tracker team. Engage all your sense as you discover a world where each sound, scent and bent blade of grass has a meaning.
Private Safari
Planned especially for you, this exclusive safari allows you to explore the bushveld with your very own dedicated ranger, tracker and vehicle. Game drives can be as long or as short as you wish. Meals can be enjoyed at the lodge, picnic-style outdoors or enjoyed under the shade of the trees. Your specific areas of interest can be covered, from the insect kingdom to great herds of buffalo or prides of lion.
Photographic Safari
Photographic enthusiasts, from beginners to advanced, can now capture the wondrous landscapes and magical creatures of andBeyond's Phinda Private Game Reserves, by taking advantage of a fully-equipped photographic safari vehicle. The vehicle has been fitted with state-of-the-art camera mounts and cater for a maximum of four guests, ensuring exclusivity during your safari experience.
Guests can choose from the following two options:
1. Specialist Photographic Safari
• Have an expert photographic guide accompany you. Our expert guides will use their extensive experience in wildlife, birding and landscape photography to help you get the shot of a lifetime!
• A maximum of four guests.
2. Photographic Safari Vehicle
• Book the photographic safari vehicle only – maximum of four guests.
• Photographic enthusiasts will be driven and guided by an andBeyond safari guide.
A Night Under the Stars
Spend the night sleeping directly beneath the stars in the heart of the bush on this thrilling overnight adventure. As the sun sets at the end of your afternoon game drive, you will arrive at a beautiful clearing in the midst of the bush, where comfortable beds with warm duvets and blankets, as well as billowing mosquito nets, are set up for you. Pull your chair up to the blazing campfire and toast the sunset as darkness deepens. Enjoy a delicious meal prepared on the open fire and fall asleep in utter tranquility, surrounded by Africa's night sounds and kept safe by an armed guard.
Ocean safari
Whilst enjoying the exceptional Big Five andBeyond Phinda Private Game Reserve, why not treat yourself to an Ocean Safari that offers a wonderful opportunity to encounter some of South Africa's beautiful marine life. This exciting adventure, aboard an inflatable vessel and in the company of a certified dive master, offers the prospect of encountering and swimming with wild dolphins, snorkelling amidst flourishing reefs and the chance to view humpback and southern right whales (seasonal).
Rhino Notching – Black Rhino
Enjoy a once-in-a-lifetime opportunity to get up close and personal with rhino at andBeyond Phinda Private Game Reserve while assisting in the conservation of this endangered species. This adventure allows guests to witness the capture and darting of either a black or a white rhino. A wildlife vet will locate and dart the rhino from the vantage point of a helicopter, while the guests and ground crew will follow in open 4x4 safari vehicles. Once darted, the veterinary team will notch the sleeping animal's ear for research and security monitoring, as well as insert a microchip into the horn, enabling researchers to correctly identify different rhino on the reserve. Groups of up to eight guests can participate in this conservation initiative and have the never-to-be-repeated opportunity of touching the anaesthetised giant during the notching procedure. Guests will need to spend a minimum of three nights at Phinda.
Scuba Dive Refresher
A refresher course is necessary for fully certified divers who have not participated in diving for 6 months or more.
Max 8 guests, cost is per person
Interpretative nature walks
Accompanied by your ranger, enjoy an interpretive nature walk, around the lodge, where you learn more about the intricacies of the African bush, from discovering fascinating flora and reading animal tracks with your guide to meeting smaller wildlife up-close.
Private Vehicle
With a dedicated game ranger and tracker, as well as a private game drive vehicle, guests have the luxury of tailor-making their own safari experience; choosing their own game drive times and spending as much time as they want at sightings.
Elephant Conservation Experience
Be among four groups, of up to eight guests each, who will have the once in a lifetime opportunity to participate in andBeyond Phinda Private Game Reserve's elephant conservation project. Here, you will have the opportunity to witness an elephant darting, and assist in the changing of the sleeping pachyderm's radio collar. Four of the elephant collars utilised in Phinda's research programme are in need of replacing and guests are being invited to participate in this extraordinary experience. Guests will be required to spend a minimum of three nights at andBeyond Phinda Private Game Reserve and the exact dates during your stay will be dependent on the availability of the veterinarian and helicopter pilot.
Rhino Conservation Activity
Enjoy a once in a lifetime opportunity to get up close and personal with a rhino at andBeyond Phinda Private Game Reserve while assisting in the conservation of this rare species. This adventure allows guests to witness the capture and darting of a rhino and assist the veterinary team in notching the sleeping animals ear for research and security monitoring. Ear notches, as well as microchips placed in the horn, enable researchers to correctly identify different rhino on the reserve. Groups of up to eight guests each (sharing the same vehicle) can participate in the entire process, from locating and darting the rhino by helicopter to the never to be repeated opportunity to touch the anaesthetised giant during the notching procedure. Guests will need to spend a minimum of three nights at andBeyond Phinda Private Game Reserve.
Horse in False Bay
Set off to explore the picturesque False Bay Nature Reserve, part of the renowned iSimangaliso Wetland Park, on a scenic two-hour horseback ride. Swing into the saddle of a gentle steed, trained for every age and level of riding expertise. Declared a UNESCO World Heritage Site in 1999, the iSimangaliso Wetland Park offers extraordinary habitats for you to discover as you ride through a diverse landscape of dense woodlands, azure lakes that feed into an aquamarine ocean, gilded sand dunes alongside and vast grasslands.
Your journey will take you through the shady sand forests of the park before reaching the pristine shoreline of False Bay, which stretches into the horizon. En route, you may encounter a plethora of bird species, as well as sightings of crocodiles sunning themselves along the shoreline, curious zebra cantering alongside your horse, wary impala twitching their ears at every sound and plump hippopotamus wallowing in the lakes. As you make your way along this beautiful stretch of coastline, be sure to keep an eye out for crisp white shells that echo the secrets of the sea, as well as delicate ammonite fossils, extinct marine molluscs dating back millions of years.
Reviews: