Vamizi island
Andbeyond collection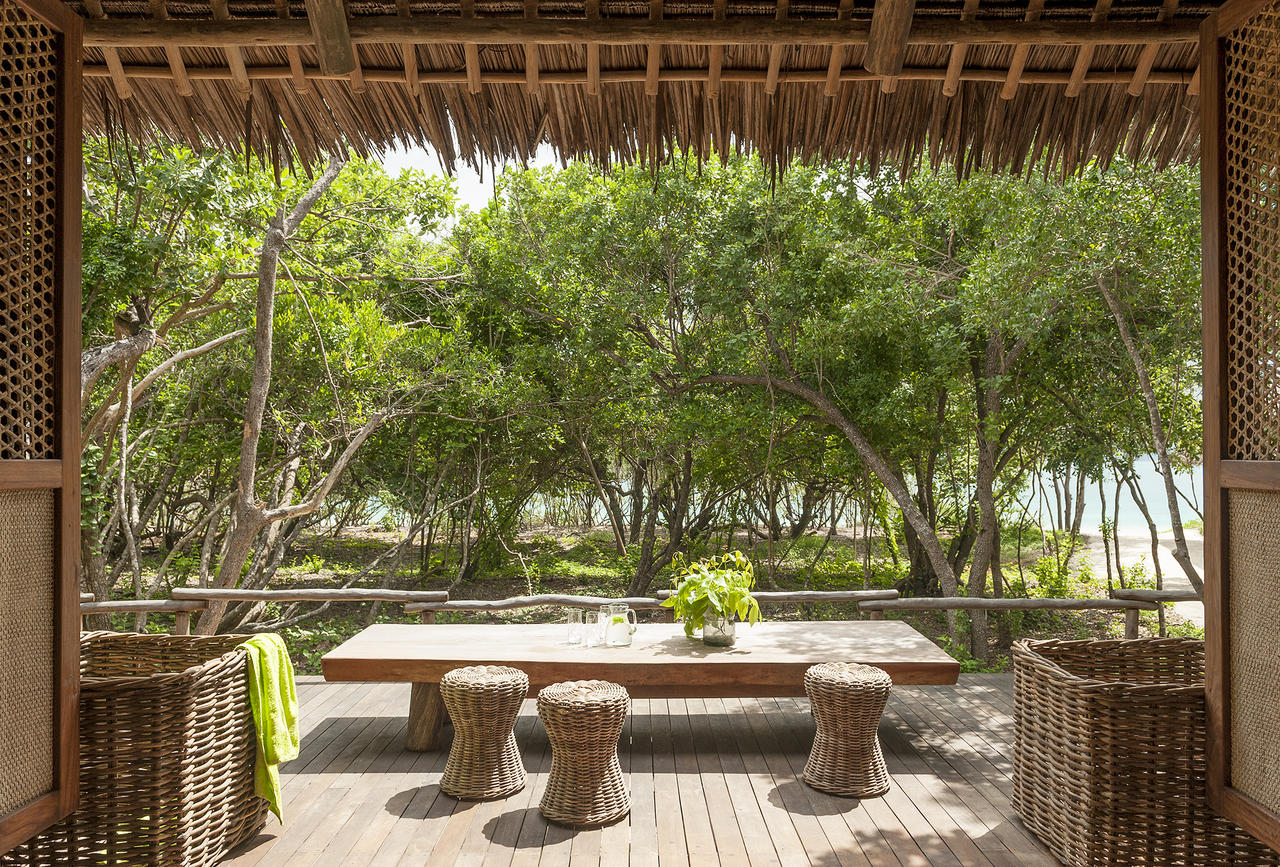 Overview
Set among the Quirimbas Archipelago, in a marine conservation area off the coast of northern Mozambique, the idyllic coral island of andBeyond Vamizi is blessed with a tropical climate and offers immaculate powder-soft beaches that rival those of the Maldives. Perfect for families or groups, six luxurious villas beckon to guests, each individually decorated to offer you a private slice of paradise. This is a destination to be explored at your own pace.
Rooms:
andBeyond Vamizi Kipila
Drawing inspiration from its breathtaking tropical surrounds, andBeyond Vamizi Kipila (meaning "plover" in Kimwani) offers a refreshing palette of blues and greens that accentuate its earthy brown finishes and pitched Balinese-style timber shingle roof. The perfect castaway retreat to reconnect with family members, Kipila is ideally situated within three acres of flourishing gardens that line a vast stretch of private beachfront. It boasts four ensuite rooms that overlook the ocean and a children's room. The bathrooms have been creatively designed to feature elegant gardens within them, bringing the lush surrounds of the villa indoors.
Languid moments can be spent lounging in the spacious sitting room, cooling-off in the sparkling lap pool or enjoying a game or two in the entertainment area, while a private chef prepares a selection of tantalising favourites for the day. A tower, inspired by the Portuguese lighthouse on the island, offers spectacular views across the ocean; the ultimate setting to enjoy a refreshing cocktail and to toast the sun as it sets over another idyllic day.
andBeyond Vamizi Suluwilo
Meaning "forest weaver" in Kimwani, the luxurious andBeyond Vamizi Suluwilo offers a spectacular blend of Arabic influences and contemporary finishes. Sweeping palm-thatched roofs draw inspiration from the sails of a traditional dhow, carefully angled to catch the cool sea breeze. A sunken Arabic courtyard offers cosy nooks for quiet moments of reflection, while a "lookout" tower provides the ideal setting for refreshing sundowners.
The villa boasts four beautifully adorned ensuite rooms and a children's room with bunkbeds and an adjoining childminder's room. The master bedroom features a small area, with two single beds, for children. A private chef is on hand to create mouth-watering favourites, served in the spacious dining room or private beach sala, whilst a sparkling swimming pool offers an alternative to the azure waters right on the villa's doorstep. Apart from the extraordinary adventures available on the island, children can enjoy an entertainment room complete with satellite television, table-tennis and board games.
andBeyond Vamizi Papilio
andBeyond Vamizi Papilio, aptly named after a genus in the swallowtail butterfly family, is a tranquil haven decorated in delicate hues of cream, muted blues and light wood furnishings. Spacious beyond measure, this light and airy villa offers the ideal refuge for families and groups to reconnect. Set within three acres of verdant forest, Papilio has been designed around a "courtyard theme" with a blend of split-level living, cosy nooks for moments of reflection and luxurious rooms that urge guests to completely unwind on their well-deserved vacation.
The main guest areas include a roomy dining area where scrumptious tailor-made menus are served by a private chef, two large sitting rooms (one overlooking the beautiful pristine beach, and the other with a lovely open fireplace for those cooler winter evenings), a convivial bar area, sparkling swimming pool and private beach sala. In the evenings, guests can retreat to one of four spacious ensuite rooms, each with their own private deck and living area, whilst a further two ensuite rooms, built as "treehouses", can be accessed by a suspended walkway and are wonderful for adults and children alike. A deck sitting in the tree canopy links the two treehouses.
andBeyond Vamizi Tartaruga
Set within three acres of lush forest, with a vast stretch of unspoiled beachfront at its doorstep, the natural elegance of andBeyond Vamizi Tartaruga (meaning "turtle" in Portuguese) is highlighted in its earthy tones, with splashes of green, and driftwood finishes. The ultimate Robinson Crusoe hideaway, this luxurious five-bedroomed villa is a must for families or groups. Three ensuite rooms boast a private deck and spacious sitting room - the master bedroom also features an adjoining area that can accommodate two young children. A further two rooms are situated in the lush canopy of the forest, in the villa's enchanting treehouses. These rooms offer three single beds, which can be converted into a super-king bed. The treehouses are perfect for adults and children alike and are linked by a stargazing deck.
The main guest area has a striking palm thatch roof, supported by magnificent pillars of locally collected casuarina driftwood. Its open sides lead on to a vast deck, home to the freshwater swimming pool, which flows into the landscaped gardens leading down to the ocean. Adjacent to the sitting room is a shaded al fresco sala, with a further dining area located at the edge of the beach. The local coral limestone walls, and hand-carved windows and doors are a distinctive feature of this beautiful villa.
andBeyond Vamizi Casa Marjani
Meaning "coral" in Kimwani, the natural, earthy ambience of andBeyond Vamizi Casa Marjani blends seamlessly into its private beachfront setting. This magnificent "traveller's hideaway" combines design elements which pay tribute to the island's breathtaking surrounds and trinkets, lovingly collected from across the globe, that pay homage to the diverse cultural heritage of the atolls of Mozambique. Backed by a lush forest, this luxury villa boasts five bedrooms, making it the perfect retreat for families.
The master bedroom is ideally situated to make the most of the island's glorious ocean views and boasts a private pocket beach and an ensuite bathroom, complete with a walk-in shower. The second room is also sea-facing and has a private veranda that leads onto the beach and an ensuite bathroom with walk-in shower. Children are oh-so welcome at Casa Marjani, with two bedrooms carefully designed to cater to their needs. These rooms are set back into the forest and feature an ensuite bathroom. Lastly, this coastal oasis offers a spectacular elevated 'treehouse' bedroom with a lovely ensuite bathroom.
The main guest area has a striking palm thatch roof and open sides. Its decking flows into beautifully landscaped gardens offering a tranquil al fresco setting for private dining, accompanied by serenading waves. A mezzanine level makes for a cosy hideaway - perfect for family game time. There is an elevated study behind the master bedroom and an open courtyard, complete with swinging chairs and hammocks, just behind the main guest area. The tower, adorned with stargazing chairs, offers uninterrupted views across the island and up to the night sky. Set within the tower is a breakaway lounge, complete with a day bed. A simply designed beach sala makes use of a traditional dhow sail for shade, and is the ideal retreat to while away sun-drenched days on the beach.
andBeyond Vamizi Casamina
The contemporary, beach-chic atmosphere of andBeyond Vamizi Casamina offers a vibrant setting in which to enjoy the idyllic tropical paradise of the island. Here, stark white fabrics are accented by brilliant hues of turquoise and magenta – the perfect accompaniment to the villa's warm wooden furnishings, contemporary décor and palm-thatch roofs. Casamina is the ultimate family or group getaway. Adults can unwind in one of three beautifully furnished ensuite rooms, with dreamy ocean views, whilst children have a hideaway of their own in the form of two rooms, each with two sets of bunkbeds and a shared bathroom. One of the children's rooms has a small adjoining area, big enough for a single bed, to accommodate a childminder. An enchanting treehouse room lends itself to both the young and young at heart.
A split-level living, dining and bar area is covered by an impressive thatch roof with open sides, providing spectacular views of the ocean, while a sparkling swimming pool offers the perfect respite after a successful day of adventures. Take in the panoramic vistas of the island as you enjoy a wholesome breakfast on top of the villa's tower, which also houses a games room with satellite television, books and board games.
Activities & features:
Castaway Picnics
Indulge on a mouth-watering array of scrumptious picnic delights at one of the numerous secluded picnic spots scattered around andBeyond Vamizi Island. This is the ultimate desert island experience.
Community Visits
Immerse yourself in the local customs and traditions of the fisherman communities on andBeyond Vamizi Island on a guided tour.
Sailing and Traditional Dhow Sunset Cruises
The regular trade breezes and calm seas afforded by the reef to the north of andBeyond Vamizi Island ensure the conditions for sailing are almost always perfect. A selection of Hobie Cats and dinghies are kept at the Dive Centre. Alternatively, more relaxed sunset cruises on a traditional dhow are a fabulous way to see out the day with a glass of chilled wine, whilst searching for dolphins and turtles.
Fishing
andBeyond Vamizi Island is surrounded by deep water and healthy coral reefs which provide a bountiful habitat for a multitude of fish species. More than 50 sport fishing varieties are present and, while some species are migratory, most do not have to venture far to feed and are present in large numbers year round. The beauty of fishing at Vamizi is in its remoteness - there are almost no other fishing boats in the area allowing guests virtually exclusive rights to the waters. Embark on a thrilling deep-sea fishing excursion, ethically run blue water spearfishing trip or a catch-and-release fly-fishing adventure.
Guided Nature Walks
andBeyond Vamizi Island is home to a great variety of flora and fauna. There are a number of trails through the coastal forest and along the beach, stopping off in deserted sandy coves for a cooling swim. To get the most of these walks, it's best to go early in the morning with your resident guide who will point out samango monkeys and giant coconut crabs as well as a multitude of forest and coastal birds.
Kayaking
Choose from a selection of single or double kayaks and embark on a guided or solo kayaking adventure through the island's estuary at Muntu Nkulu. Glide effortlessly over glass-like water whilst colourful coral reef fish, turtles and cowrie shells pass just beneath you. Alternatively, drift silently through the mangroves in search of kingfishers, green herons and fish eagles.
Scuba Diving
andBeyond Vamizi Island's waters contain a plethora of marine life and have been deemed one of the healthiest coral reef eco-systems in the world. A combination of wild underwater landscapes, the bounty of tropical ocean currents and an abundance of aquatic life, makes Vamizi a truly world-class diving holiday destination. Dive sites are being discovered all the time, catering for all abilities from the novice to the experienced diver and Vamizi's PADI dive masters and instructors are always on hand to guide or teach.
Snorkelling
Grab a snorkel, mask and a set of fins to explore the healthy coral reefs around andBeyond Vamizi Island. The best snorkelling spots are reached by motorboat with a guide, but there is also outstanding snorkelling to be had from the shore. This is a wonderful activity for both children and adults alike!
Turtle Watching and Releasing
andBeyond Vamizi Island is home to green sea turtles that come up onto the beach to nest at night. If you're lucky enough to be there in season, you can witness this amazing sight. When the eggs hatch some baby turtles may be trapped in the sand and these stragglers are saved and released by the Conservation Team; a fantastic activity for children to be involved in
Whale Watching
Between July and September each year the humpback whales pass andBeyond Vamizi Island on their epic voyage from East Africa to Antarctica. They bring their new-born calves with them and the new families enjoy frolicking in the deep water channels around the island. The whale watching trips offer the perfect opportunity to see these incredible animals up close
Yoga and Treatments
Treat yourself to soothing spa therapy session or enjoy a private yoga class in the privacy of your villa.
Oceans Without Border small journey - Explore the beauty of andBeyond Vamizi Island
A brief orientation session and presentation will be hosted in the evening to prepare you for your next few days. Additionally, enjoy a short presentation and discussion on the importance of mangroves and estuaries; what the threats are and how we can be a part of the solution.
Oceans Without Border small journey - Discover significant conservation and community initiatives
After a delicious breakfast (and tide dependent) make a splash as you embark on a kayak excursion in the Vamizi Estuary. Gain insight into the importance of estuaries and mangroves, and the role coastal ecosystems play in absorbing CO2.
Enjoy a delicious picnic lunch and then meet up with the Vamizi conservation team to peruse the vast expanse of beach, clearing debris and litter, and seeing the effects of beach erosion. Gain an understanding about some of the key conservation challenges faced by tropical islands, and global marine life, and interact with a group of women from the local fishing village to better understand their needs and challenges.
Visit a school in one of the communities, learn about their alternative income projects and their island life In the evening enjoy a discussion on reef ecology and learning the techniques to survey a reef
Oceans Without Border small journey - Learn about fishing conservation or go diving on pristine reefs
Wake up early to head out with the local Fisheries Council and Vamizi conservation team, on a fish tagging expedition in the marine sanctuary. The local Fisheries Council established a Marine Sanctuary, surrounding much of the eastern side of the island. Continuous research is conducted to monitor the positive impact this has on growth in terms of size and abundance of fish species.
Alternatively, for the advanced divers in the group, a diving expedition to Neptune's' arm is a must-do experience. Named among the top dive destinations in the world this exquisite reef features beautiful drop-offs, canyons and pinnacles. Gain insight into the Vamizi reef system and also some of the challenges faced by marine research projects.
A fresh, delicious lunch awaits you at your villa, and an afternoon of sun, sea and serenity, or you can opt to enjoy a fascinating community visit. To have a real impact on conservation, the communities that are dependent on the eco-systems are vital to their protection. Spend time with the women that live on the island and visit a school, learn about their alternative income projects and their island life.
This afternoon is yours to relax, go for a snorkel, a second dive, or explore the island at your leisure.
Following your adventure, sit back and enjoy the thought provoking screening of the documentary Cradle of Coral. This documentary was filmed to showcase the sublime beauty and diversity of the marine eco system, and the immense danger to the fragile reefs, due to coral reef bleaching.
Oceans Without Border small journey - Immerse yourself in the kaleidoscopic depths of the ocean
Learn about turtle conservation at andBeyond Vamizi Island and do an early morning turtle nest survey, understanding why this is important for these turtles to breed, flourish and ultimately survive.
Grab your snorkel gear and jump on to a boat for some time in the sparkling water, putting into practise your reef surveying techniques for the day. Learn how the measurements are done and recorded and the importance thereof. Learn how to compare a damaged reef to a pristine reef. Our coral reef systems are vitally important to sustaining marine life and creating fish breeding habitats. However, with global warming, these systems are under threat.
After your day of being a marine biologist, sink into absolute tranquility on a sunset dhow cruise followed by a presentation on traditional fishing methods, and the impact of industrial fishing and how we need to protect our waters, and the inhabitants populating them.
Oceans Without Border small journey - Put on your conservation hat for a fun-filled adventure
A day of exciting adventures awaits you as you venture into the great watery unknown! The evening before you will be given you bearings, coordinates, distance and a selection of fuel, equipment and food, with a task attached. Your thrilling expedition begins by being whisked away to a remote island about 2-hours away from andBeyond Vamizi. You will be required to put into practise the knowledge and skills you have learnt over the past few days – don't worry, you will be supported throughout your journey by you guide and capable Vamizi team! Participate and engage in fun and significant tasks along the way, and feel like you have been luxuriously shipwrecked as you enjoy a delectable castaway picnic lunch served a pristine beach.
Reviews: