Zarafa Camp

Great Plains Conservation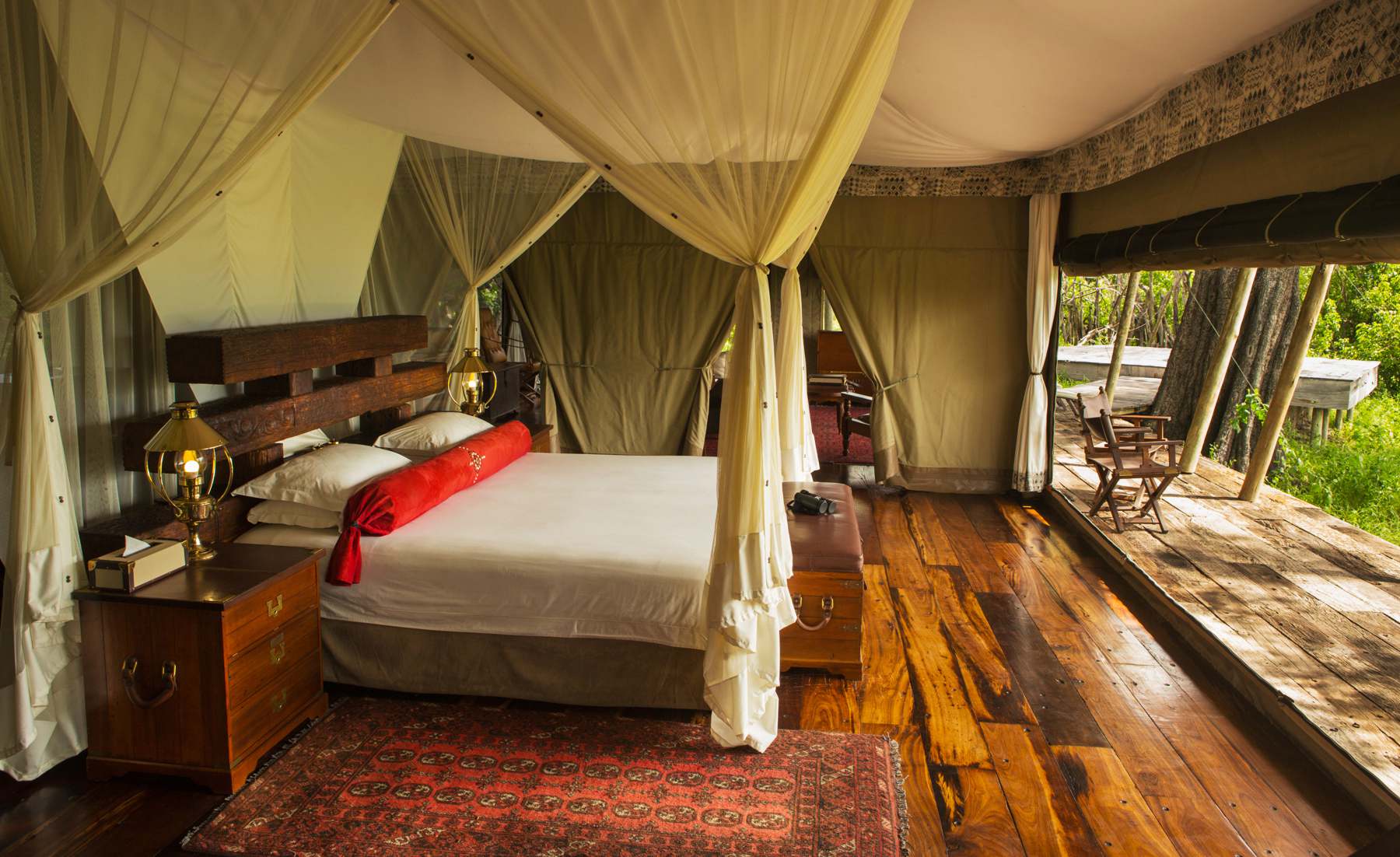 Overview
Zarafa Camp is an intimate, four room exquisite tented camp located on the 330,000 acre Selinda Reserve in northern Botswana, an area linking the Okavango Delta and the Chobe/Savute corridors. Its villa, the Dhow Suites, consist of two tents and private main area and operates entirely independently of main camp. Few camps rival the location of this little gem, Botswana's first and only Relais & Chateaux property. Overlooking the crystal waters Zibadianja Lagoon, the source of the famous Savute Channel, every area of camp has a magnificent view. The lagoon is also the water source for a tremendous population of wildlife – dry season sightings boast buffalo and elephant by the hundreds.

Zarafa Camp and Dhow Suites are the brainchild of the founders of Great Plains Conservation, who pooled their collective experience on safari to create what they deemed to be the best and most environmentally innovative camp. As a consequence, Zarafa may in fact be the "greenest" luxury safari camp on the continent. Only recycled hardwoods and canvas were used in the construction and all the camp's electricity comes from its solar farm while 'bio gas' plants recycle waste into usable cooking gas.

The Zarafa Camp guest tents, 1000 sq. ft in extent, are under beige, flowing canvas, with canopy ceilings and completely open (yet netted) sides. Entering through the heavy wood Lamu door transports guests to a lavish space of deep reds, browns, brass and copper, evoking richness and beauty. Each tent has a full lounge with desk, gas fireplace for winter and even WWII crank phone for drink orders! The large bedroom is connected to an open layout bathroom with impressive copper claw foot bath, indoor shower, separate loo and double basins. Decking around the tent leads to the private plunge pool and full-body outdoor shower, all with views of pristine Botswana wilderness. Under an impressive canopy of African ebony trees, the camp has a sizable main lounge, with adjacent library and dining area. A curio shop and 'jungle gym' satiate those who need retail therapy or a good work out. In-room massage is also available. Zarafa has succeeded in successfully in retaining a clearly African feel, while balancing that delicate relationship between personal and informal and romance and adventure. Zarafa Camp has no equal in terms of its environmental credentials and its careful appointments.
ROOMS:
Luxury Tents
Zarafa Camp is designed with exclusivity and privacy at its core. Each tent is positioned on the forest's edge, rimming the shores of the floodplains and far from a neighbour. The 1,000 square foot 'marquis style' canvas tents are expansive and open-air without exposing guests to the elements. Each of the three "rooms" of the tent is decorated with custom-made furniture, handcrafted from recycled ancient hardwoods. The raised decks, constructed of recycled African railroad sleepers, form the tent's foundation.
Upon entry is a large lounge appointed with a leather sofa, armchairs, personal bar and writing desk. Adjoining the lounge is the main bedroom and dressing area, where the overhead fans and seductive mosquito nets set the ambiance. Exiting the bedroom, a beautiful copper gas fireplace is strategically placed between the bathroom and the bedroom to allay the chill of the winter months. The main bathroom is comprised of a copper bath and shower, double sinks and private toilet. Off the bathroom, the raised walkway leads to the outdoor shower, complete with wrap around showerheads! The private verandah, running the length of the front of the tent, offers a private plunge pool, outdoor lounge and sweeping view of Zibadianja Lagoon's waters.
Each tent comes with its own Canon professional camera including a Canon 5D body and 35-135 mm and 100-400mm zoom lenses for use during a stay. Photos are then burned to a DVD as a souvenir at the end of your stay.
Activities & features:
Game Drives (day & night)
With a maximum of just eight guests, Zarafa Camp offers complete flexibility. Drives do focus on the most comfortable and productive times of day, early morning and late afternoon, but full day drives are also quite common at a guest's request. Picnic brunch can be delivered, and the vehicles are stocked with cold drinks. The camp has two custom built Land Cruisers specially designed for our conditions and photography (fold-down screens, raised roofs, photographic bars, multi-plug invertors) with seven individual bucket seats.
Guided Walks
Another huge benefit of staying within the conservancies is the ability to appreciate the stunning landscape on foot, peacefully, without the noise of engines. We highly recommend this unforgettable experience. Talk to the managers to arrange a good time and location for a walk. Usually early morning or evening is the best time, as the middle of the day is too hot to venture out of the shade. Wear good
walking shoes, a hat, and neutral coloured clothing so as not to alarm the wildlife, and take binoculars. Your guide will have water for you. Walks are led by licensed guides with firearm training.
Boat Cruises
The HES Zib, Zarafa's special pontoon boat, is an utterly unique experience. The 275 sq. foot deck is complete with couches, a dining area and bar where guests can comfortably enjoy floating brunch or sundowners while watching hippos and elephants in the water. It is also an exceptional platform for birding.
Catch-and-Release Fishing
Fly-fishing and rod/reel kit is available for those who want to try their cast at the local fish (except January and February when there is a moratorium on fishing). Power boating on the channels is available, water level dependent.
Photography
Each of Zarafa's guest tents has a professional Canon camera set, including a Canon 5D camera body and Canon 100-400mm and 28-135mm lenses. Photos will be downloaded to a DVD on guest's departure. Each tent comes with a pair of Swarovski binoculars for guest use as well. For stargazers, each room comes with its own Nikon telescope for use on each tent's private deck.
Young Explorers Program
A full syllabus of bush craft skills for our young explorers. This is a complimentary program that follows in the footsteps of National Geographic Explorers-in-Residence, Dereck and Beverly Joubert. An extensive pack will be provided to eager children on arrival, so they can learn about animal calls, how to track wildlife, and other facts and figures about the wild. At the end of a child's stay, he/she will become a Young Explorer and Conservation Ambassador - ready to go out and tell the world about what they have learned and what they too can do to help protect this beautiful environment.
Reviews: