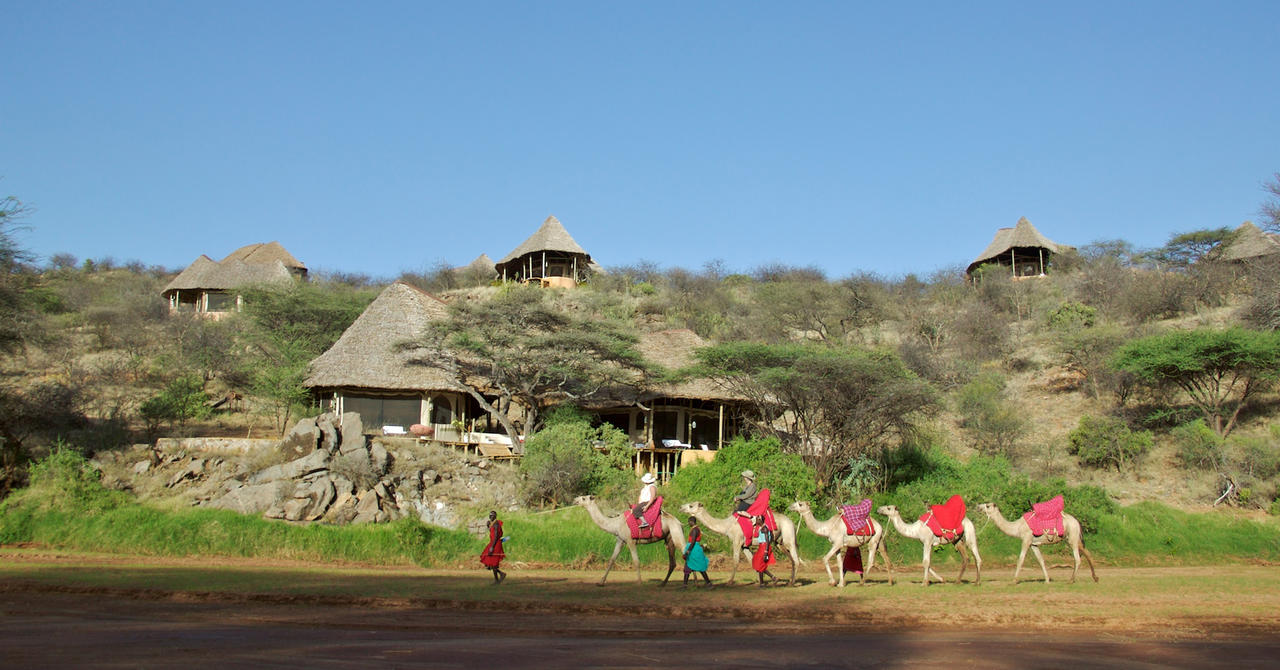 Overview
Sasaab Lodge is comprised of eight individually detached rooms with huge thatched roofs and canvas sides with sensational views down the river, over the bush and beyond. Each room is uniquely styled with its own private pool and open verandah. Attention to detail is evident throughout the lodge, from personal service and incredible food, through to the elegant interiors and design - with a contemporary North African style.
The lodge is in the midst of a community conservancy, rich in raw Samburu culture and traditions, and has been built with wildlife conservation and preservation of the environment foremost in mind. The lodge has been established in association with the local community who benefit directly and indirectly from your stay at Sasaab. Sasaab Lodge offers invigorating walks through the wilderness, game watching, alfresco dining, a unique cultural experience and opportunities to become involved with the local community and it is the ultimate place to relax and unwind.
Rooms:
Luxury Suite
The luxurious suites are spacious and designed to act as a private sanctuary. Each has a private plunge pool, chill out space (either a verandah or mini-garden), and large open air bathrooms. Every room is intensely private. The lodge is situated on quite a steep bank, so it is recommended that anyone with walking difficulties requests a room near to the mess, which is easily accessible.
Family Suite
Sasaab has a family unit that has two interconnecting rooms which is ideal for two couples travelling together as well as families. The family unit also has a private plunge pool.
Activities & features:
Game drives and bush breakfasts
We have open sided game drive vehicles to ensure maximum game viewing and comfort. They are kitted out with suncream, drinks, books, sweets (everything to keep you happy during a game drive). We even have stoves for freshly cooked bush breakfasts including fried eggs or omelettes and pancakes cooked to order.
Bird watching
Abundant birdlife is found along the banks of the Ewaso Nyiro and bird walks are offered by the lodge.
Spa treatments
Spasaab is a purpose built, state of the art haven of peace and serenity. It blends modern beauty and health treatments. The spa offers a selection of massage and beauty treatments designed to restore your body's natural balance and soothe away your stresses using healing earth products.
Fly camping
Guests who want to experience the true wildness of the area can spend one or two nights walking and fly camping in the further reaches of the conservancy. This safari would start with a 4 – 5 hour walk along the banks of the Ewaso Nyiro River, accompanied by camels carrying a picnic breakfast, reaching the fly camp in the late morning. The heat of the day would be avoided under shady trees at the camp and another walk can be taken in the evening as it cools down. Dinner is served under
the stars and the night spent under mosquito tents, giving a clear view of the sky above.
Market day
This is an incredibly colourful assault on all the senses at an authentic Samburu market. Market
days usually happen on Wednesdays and Thursdays but can vary, please check with our office if you're interested in doing this.
Walking
Stretch your legs and take the time to appreciate the surroundings, flora, fauna and birdlife. It is possible to enjoy morning bird walks, late afternoon walks with sundowners or half day walks
Camel rides
Sasaab has five resident camels. Guests can enjoy camel rides at any time. Walking with them to our sundowner spot is a particularly popular activity.
Sundowner drinks with a spectacular view
Sundowner Rock in the Westgate Conservancy is a legendary sundowner spot that is bound to leave a lasting memory.
Quad biking
For the adrenaline junkies we have four quad bikes available to use. A quad biking excursion is the ultimate in holiday freedom. Have loads of fun as you explore the Samburu wilderness. We can tailor a quad expedition complete with overnight camp out (advance notice is required). Quads can be enjoyed starting from US$ 35 per person per hour. This fee is directly put into our community and conservation projects.
Samburu homestead visit
It may be possible for you to visit one of our neighbouring villages to gain an insight into the fascinating culture of the Samburu people and how they survive in this harsh environment. The best time to visit is either in the early morning as the manyatta awakes and herds leave for the day to graze, or late afternoon as they return. The visit is dependent on the Samburu elders and each visit must be individually arranged with the lodge during your stay.
Samburu dance
Before supper step back into your vehicle for a short drive to the banks of the sandy Ewaso Nyiro river. As the dusk approaches with a refreshing sundowner in hand enjoy the vibrant Samburu dance and sing. Later on enjoy a delicious three-course dinner under the African sky.
Gym
Sasaab has a fully functioning gym complete with free weights, elliptical, exercise bike and TRX. All rooms also have a yoga mat with a post safari stretch card for you to use during your stay designed to lead you through some simple exercises.
Ngutuk Ongiron primary school and clinic
This is a small Samburu settlement that has established a primary school with a preschool and early primary and a small clinic. You are welcome to visit the school and clinic and see what happens during a working day. Sasaab is helping the community to develop the educational and health facilities on the group ranch through generous donations.
Get arty on safari
Each tent has a watercolour set and artist pad for you to use during your stay. Get creative in Sasaab's idyllic, artistic surroundings and paint the unique scenery, wildlife, flora and fauna.
Reviews: