tanzania safaris
africa's masterpiece
Tanzania is Africa's Masterpiece. It is an amazing country of natural splendor, astounding wildlife, secluded beaches, charming ancient towns, geological wonders and archaeological sites. Africa's highest peak, Mount Kilimanjaro, rises from a lush grassy plain and towers over the land. Its snow capped peak is an amazing sight to see and one you can see over the savannah's for miles. As an Ideal bush and beach combination, travelers can witness the great migration, remote wilderness packed with wildlife and end the safari with a secluded beach holiday on Zanzibar, the exotic Spice Island.
With almost a third of its land protected for wildlife viewing and some of the best game parks on the continent, safari is a way of life in Tanzania. This is Tanzanian safari – visitors flock here to witness the epic annual Great Migration pass through the legendary Serengeti – a massive spectacle with wildebeest herds so large they can be seen from space. An unforgettable Serengeti safari awaits you.
Quick Links to tanzania Safari Travel Advice
Explore the best times to View the Great Migration - Get the facts and Plan your Safari
Get advice on Mobile Tented Camps vs Permanent Fixed Lodges
Our Experts' list of Top 5 Best Family Safaris in East Africa
Go off the beaten path in Tanzania - Escape the Crowds and Go Green with our Adventurer or Conservation Safaris
Plan your trip by exploring the Best Camps for the Great Migration
Thinking about a Kenya Safari as well ? Read our Kenya & Tanzania comparison field guide
Its easy to combine a child friendly safari with a beach holiday and is why Tanzania is a great choice for family or generational travelers. Safari style villas or luxurious safari lodges also allows Tanzania to be a favorite safari destination for honeymoons. Combine a Tanzania honeymoon with Kenya for a full complete East Africa safari experience. Our safari experts have selected a range of Kenya & Tanzania safari combinations. Browse our Tanzania Safari Programs for ideas and inspiration or simply connect with our team of Safari experts and begin crafting your personal safari with our Safari Pro Connect hub. Its where our staff and our partners in Africa come together to ensure your safari is planned efficiently and exactly to your style. Exclusively by Journey Africa Safaris.
Lets Explore Tanzania
top destinations in tanzania
top destinations in tanzania
The Serengeti
endless plains - one of world's most inspired wilderness areas
Explore the iconic Serengeti National Park - The Serengeti National Park, meaning "endless plains" in the Maasai language, is undoubtedly one of Earth's most celebrated wilderness areas and is an ongoing source of inspiration to filmmakers, writers, and photographers. Renowned as the location of the annual Great Migration, when an estimated three million antelope, wildebeest, and zebra migrate to Kenya's Masai Mara Game Reserve. The Serengeti is Tanzania's oldest national park and renowned as the site of the annual Great Migration. This epic, seasonal journey is a deeply moving experience and a wonderful photographic subject. Travelers to the park can roam its sprawling plains on game drives, safari walks or hop onto a hot-air balloon for a once-in-a lifetime wilderness adventure.
Snapshot Of the serengeti:
Marvel at the Big Five that consists of buffalo, elephant, lion, leopard and black rhino.

Discover unique species such as topi, Grant's and Thompson's Gazelle.

Soar over the Serengeti in a hot air balloon and witness the Great Migration - a not to be missed adventure.

Visit the Olduvai Gorge and the Shifting sands, named the Cradle of Mankind, home of the first hominid skull found by Mary Leakey & dated to be over 1.8 million year old.
Perfect for:
Hot Air Balloon Safari

Large lion prides and the Big 5

Romantic Safari

Photo Safari and the Great Migration
some of our top lodges - view more in each region
tanzania top lodges - ruaha national park
top destinations in tanzania
The ngorongoro crater
one of the most beautiful wildlife havens on earth!
The Ngorongoro Crater in Northern Tanzania, once a gigantic volcano, is the largest intact caldera in the world. Some maintain that before it erupted, it would have been higher than Mt Kilimanjaro, the highest peak in Africa. Today, long since having collapsed and eroded, it is an extensive highland area with the famous 600 m deep Ngorongoro Crater as its focal point. Nearly three million years old, the ancient caldera shelters one of the most beautiful wildlife havens on earth.
Snapshot Of the ngorongoro crater:
Explore the world's only intact caldera / 100 square miles. - a UNESCO World Heritage Site

Discover the crater floor , home to over 25,000 animals with exceptional Big 5 game viewing

Enjoy half - day cultural experiences with local nearby Maasai communities.
Perfect for:
Photograph Safari

Classic Safari

Cultural Experience with Maasai
top destinations in tanzania
Tarangire National Park
famous for its vast herds of elephant & giant baobab trees.
Uncrowded and relatively unknown, Tarangire National Park covers approximately 2 850km² just south of Lake Manyara in the northern region of Tanzania. Famous for its vast herds of elephants and forests of enigmatic giant baobab trees, the rugged landscape is incredibly diverse and stands out from any other on the traditional northern safari circuit. Tarangire is a park for those who want to step that much further off the beaten track to experience a truly wild area. A Tarangire National Park safari boasts large herds of elephant and buffalo, and a remarkable concentration of big cats and is one of the best National Parks in Tanzania. The African wild dog, kudu, oryx and gerenuk, rarely found in other parks in the northern circuit, can also be found here, along with arguably the best bird diversity in Africa. More than 550 species are attracted to its vibrant swamps. During the dry season from August to October, Tarangire has the highest concentration of mammals of any of Tanzania's renowned national parks.
Snapshot of Tarangire National Park:
Exciting big cats and plains game viewing year round

Remote and exclusive wilderness area

Prime walking safari experiences
Perfect for:
Unmatched wildlife viewing

Exceptional walking safari experiences

Not your normal safari destination
top destinations in tanzania
selous game reserve
the wild & unspoiled tanzania
This wild and unspoilt game reserve in southern Tanzania boasts an enticing mix of abundant wildlife and varied terrain to explore. Spanning a vast 45,000km, the Selous is larger than Switzerland and is home to just a handful of small safari camps, ensuring an exclusive safari experience. Selous safaris are just spectacular. Game-viewing here is rewarding, with plentiful numbers of wild dog, lion, leopard, elephant, buffalo and more than 400 species of bird. A real highlight of the Selous is the variety of safari activities available, making every day entirely different from the next. Choose from traditional game drives, boat safaris to get up close to the hippos, or walking safaris to take a slower approach to understanding the flora and fauna of the Selous National Park.
Snapshot of Selous Game Reserve:
One of Africa's largest populations of wild dog

Unspoiled wilderness area – UNESCO World Heritage Site

Accessed by short flight from Zanzibar and Dar es Salaam
Perfect for:
Getting off the beaten track

Land & water-based activities

A varied wildlife experience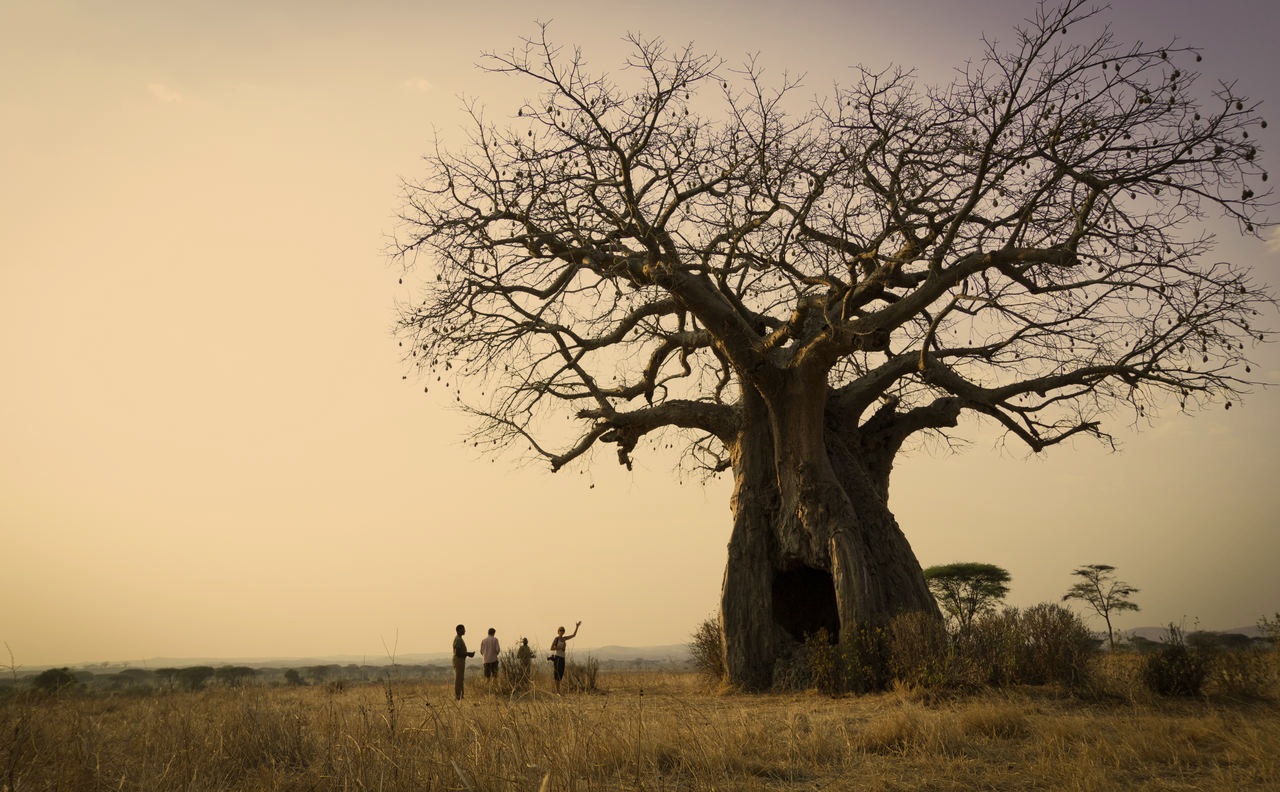 tanzania's top destinations
ruaha national park
africa's new safari frontier
Tanzania's largest national park yet relatively unknown, Ruaha is Africa's new safari frontier. This vast wilderness in the southwest of the country covers 20 226km², yet it is visited by only a handful of intrepid travelers each year. A Ruaha safari is not to be missed.
Snapshot of Ruaha National Park:
Home to 10% of the world's lion

Baobabs and spectacular scenery

Abundant game
Perfect for:
Seeing Big Cats

Exceptional walking safaris

Beautiful, unique scenery
Ruaha – named after the Great Ruaha River that serves as a lifeline for the animals of the park in the dry season – forms the core of a much larger wilderness ecosystem of 150 000km². The banks of the Ruaha are a permanent hunting ground for lion, leopard, cheetah, jackal, hyena and the rare and endangered African wild dog, who prey on the waterbuck, impala and gazelle that come to the river to drink. This is a remote wilderness area that offers an authentic and profound safari experience for those in the know and those who have a special place in their hearts for Tanzania safari parks.
Other Popular Tanzania Destinations
tanzania's top destinations
Lake Manyara National Park
Lake Manyara offers a wilderness experience in diverse habitats, from its Rift Valley soda lake to dense woodlands and steep mountainsides. Apart from a spectacular setting, the park is famous for its unusual tree-climbing lions and the vast elephant herds it was established to protect. The shores of the lake, encrusted with pink flamingo, attract more than 400 species of birds, many of them waterfowl or migrants. Large herds of buffalo, cheetah, Masai giraffe and impala roam the lake shores and the forested valley slopes. A Lake Manyara safari is a fascinating experience, as the park also features a ground-water forest, acacia tortilis woodland and hot springs called Maji Moto. Troops of several hundred olive baboon appear alongside Sykes monkey and short-eared galago. Cape clawless otter, Egyptian mongoose, hippo and klipspringer are other park residents.
Snapshot of Lake Manyara National Park:
Famous for its tree climbing lions, flamingos, and pelicans.

Watch the sunrise over Lake Manyara, with the Rift Valley behind you.

Photograph the spectacular Rift Valley scenery and the dramatic escarpment views.
Perfect for:
Seeing the famous tree climbing lions

Exceptional sunsets and photography

Beautiful, unique scenery

Katavi - a wilderness paradise
Home to the largest herds of buffalo on the planet, Katavi National Park is a relatively untouched wilderness paradise, situated in the western area of Tanzania. The park boasts a wonderful array of habitats, which range from flood plains of thick reeds and dense waterways that teem with hippo and crocodile to woodlands, open grasslands, forests and pristine seasonal lakes. Visitors to the area can seek out the legendary tamarind tree, which is said to house the spirit of a great huntsman named Katavi. Here, they can place an offering at the base of the tree in memory of this exceptional hunter.
top tanzania destinations
Mahale National Park
chimpanzee trekking and sunsets over lake tanganyika.
Set among the spectacular, forested slopes of the Mahale Mountains, the Mahale Mountains National Park was originally created to protect the thousands of chimpanzees that inhabit the region. It is renowned for its fantastic sunsets over Lake Tanganyika, which makes it an essential stop for keen photographers and safari enthusiasts. The park's breathtaking array of habitats include rainforest, grasslands, alpine bamboo and woodlands; where some 50 species of animals have been recorded, predominant among these being representatives from various monkey and ape families, and over 90 unique species of fish swim in the clear waters of the lake
tanzanias top destinations
Our best serengeti Lodges & camps
our top tanzania itineraries
the tanzania explorist gallery