n'KAYA lODGE
thornybush COLLECTION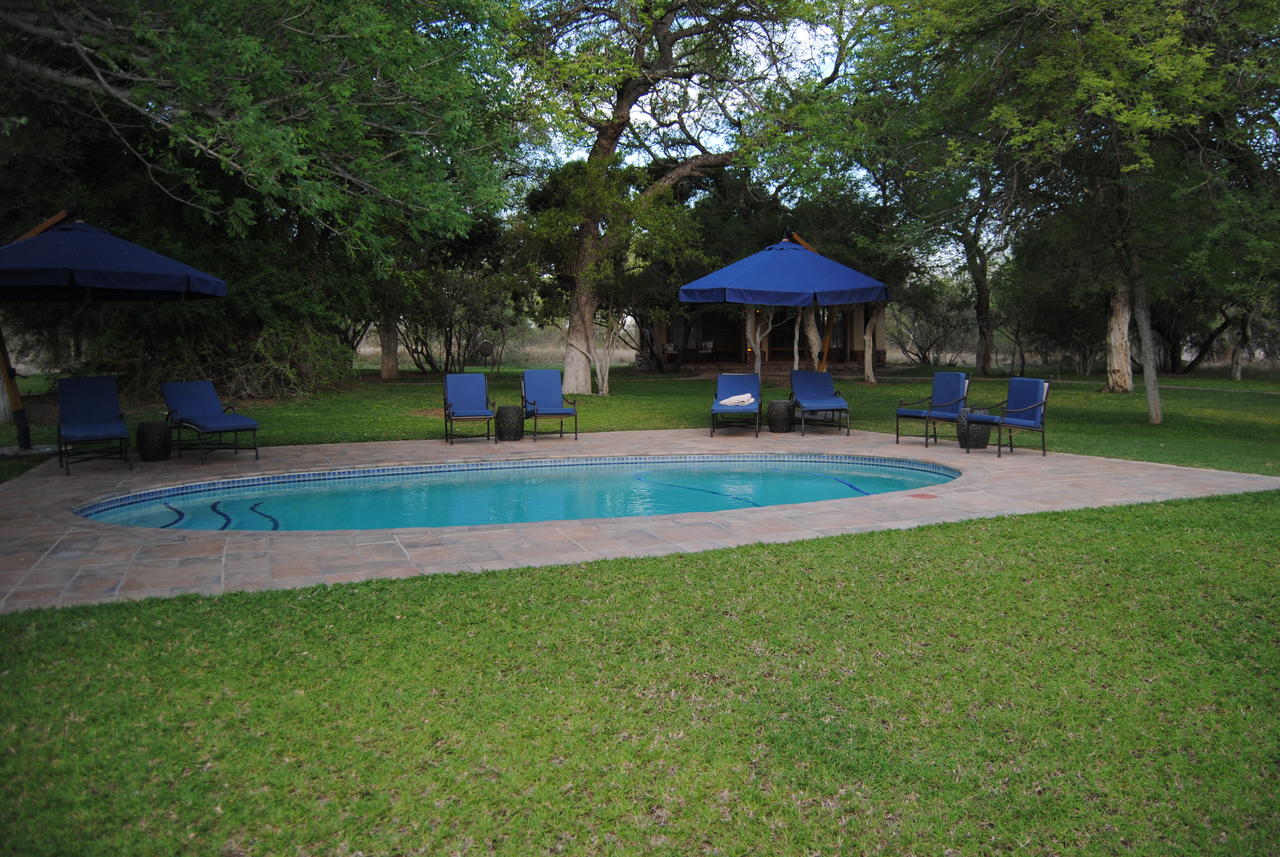 Overview
Find simplicity and serenity in the heart of the African bush. N'Kaya Lodge is like coming home.
Set on the crest of a hill overlooking the Northerns Drakensberg Mountain Range, N'Kaya Lodge is shaded by tall indigenous trees that turn it into a peaceful retreat of earthy tones that remains warm in winter and cool in the heat of summer.
With four thatched suites built around the edge of a clearing a a considerable distance from each other to ensure your privacy. Every Suite boasts a twin en-suite bathroom and private lounge which may be converted into an additional bedroom simply by closing the inter-leading door.
N'Kaya Lodge is ideal for exclusive use bookings. Built around an inviting pool area for all four suites, N'Kaya Lodge boasts an excvellent bar, dining and lounge facility, and an outside boma area for dining under the trees and the African stars.
A typical African Hide set on the banks of the lodge's watering hole, provides hours of game viewing in comfortable seating.
Rooms:
Standard Suite
With a capacity of only four exclusive suites , N'Kaya Lodge offers the discerning guest the very best in privacy and is the ideal destination for a quiet, peaceful safari.
Set on the crest of a hill that overlooks the Drakensberg mountain range and shaded by tall trees, n'Kaya Lodge boasts spacious double suites each with private lounges and twin en-suite amenities.
Activities & features:
Dawn and Dusk Safaris
The day starts as dawn breaks over the African bushveld. After an early morning wakeup call, coffee, tea & rusks are served on the main deck. Shortly after, depart in an open Land Rover with experienced Rangers and Trackers who will share their extensive knowledge of the bush. These drives are undertaken at times best suited for game viewing which vary depending on the season but typically start early morning. Where applicable you may be invited out of the vehicle to see tracks, examine certain plants and follow spoor.
The afternoon game drive is preceded by high tea and extends into the evening to view seldom seen nocturnal species by torchlight.
Guided Bushveld Walks
After a sumptuous Breakfast is served either back at the camp or in the riverbed or bush, guests are offered walks to suit their interests and fitness levels and are accompanied by an armed ranger and tracker.
Walks allow guests a better chance to see some of the smaller creatures of the bush as well as an opportunity to learn more about the flora and fauna of the region & to have a chance to follow tracks in more detail.
Our Shangaan trackers will enthral you with their explanations of the medicinal and other uses of the numerous plants and trees along with tales of traditional folklore.
Thornybush Amani Spa
Guests accommodated at nKaya Lodge Lodge may make use of the Amani Spa situated at Thornybush Game Lodge. Guests will be transferred to the spa for their treatment and return to nKaya Lodge thereafter.
Amani African Spas is an authentically South African Spa brand, which has a distinctive 360º approach to health and wellness. This is indeed what places Amani Spas apart from other service providers in the country.
Amani's focus is on complimentary health designed and customized for the individual. Amani African Spas offer some unique therapies and are designed to bring balance to the physical, emotional and mental well-being, as well as preserve and enhance youthfulness.
Hlokomela Community Project
Guests are invited to visit to the HLOKOMELA community project encompassing local initiatives to provide services to the local communities. The Thornybush Collection chooses to support the HLOKOMELA Community Projects and invites guests to visit the project which is approx. 45 mins drive from Thornybush Nature Reserve in an air-conditioned minibus. Terms & Conditions available on request. Additional costs apply.
Hot Air Balloon Excursion
One-hour long flight over the scenic, Lowveld section of the Blyde River. As the sun rises, the landscape, the vegetation and, if you're lucky, some wildlife will provide photo opportunities. Game spotting cannot be guaranteed but on most flights, we see plains game such giraffe and wildebeest. Terms & Conditions apply - additional cost.
Reviews: