Royal Chundu Zambezi Island Lodge
Victoria Falls Zambia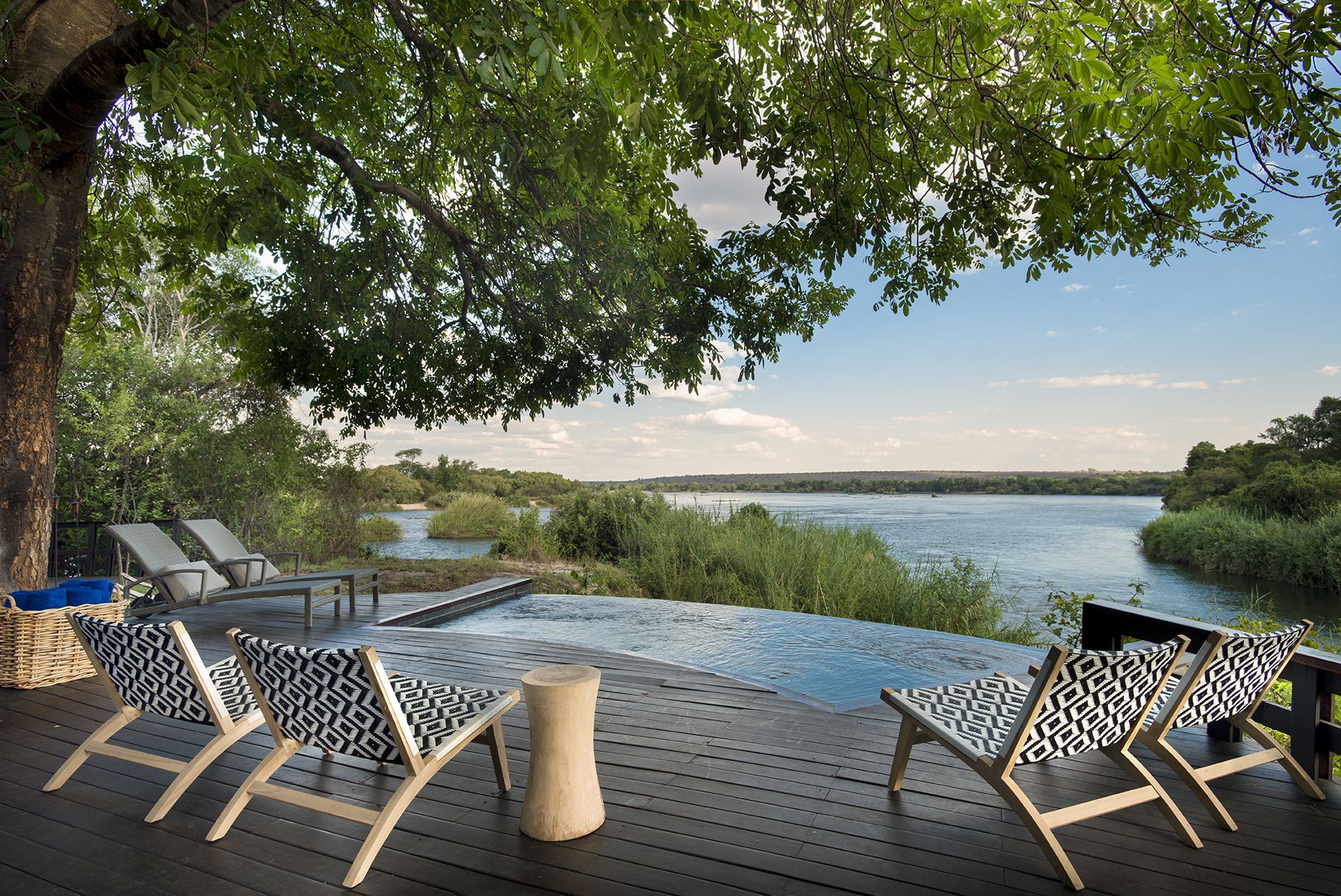 Overview
Royal Chundu Zambezi Island Lodge, the "meeting place of the Chief", is a destination of absolute solitude and unspoiled beauty.
This breathtaking lodge is situated on a private and exclusive island, overlooking the majestic watercourse and surrounding bushveld. Incredibly, Royal Chundu is positioned on a piece of untamed Africa with rapids protecting it up and downstream. The sights and sounds of Africa serve to invigorate the senses and enhance the blissful solitude.
Journey back in time, stroll through David Livingstone's backyard and discover the essence of Africa as it was intended.
Spacious suites and lounging areas masterfully blend colonial elegance and African charm, offering 4 private suites on the Katombora Island.
Rooms:
Island Lodge Suites
The 4 private suites share a lounge, dining and pool area and are located on our private and exclusive Katombora Island, 4 kilometres upstream from the River Lodge.
Each Suite has an indoor shower and beautiful outdoor bath on a deck with lounger and the most amazing sunrise and sunset views.
The Suites have air-conditioning, phones, wi-fi and mini-bars for all the necessary conveniences - but they also allow you to completely disconnect and relax. King beds under romantic mosquito nets, the whirring of wooden paddle fans, the splashing of the flowing river...
It's paradise.
Activities & features:
Signature Canoe Trip with Picnic
As an homage to our family's personal history on the Zambezi River, we offer picnics along the banks of the river just as our family had picnics in the past: Persian carpets, hammocks, Pimms upon arrival, picnic tables and sumptuous tapas lunches or breakfasts which will find you restoring your soul while listening to the rapids coursing past you.
Start with a leisurely paddle down the Zambezi to our secret picnic spot on an island - and enjoy a truly indulgent and creative meal on the banks of the river. Cocktails, homemade cordials, a gin bar... It's romantic, fun and offers up delicious flavours.
You will go over some very gentle rapids - and you will get wet! You can choose to paddle (as little or much as you want), or just sit back and let the guides do all the work.
A hat and sunscreen are essential!
Sunset Cruise
We have 15 kms of private Zambezi to explore and enjoy.
Cruise on the river with snacks and drinks, watch the sun go down and try not fill up your camera's memory with the first sunset - there will be more!
You can cast a line and see what bites (strictly catch and release).
Watch crocodiles slip off the banks as you approach and listen to the snorting hippos. In the drier months the skipper will anchor near "Ellie Corner" where you can spot herds of elephants as they drink, play and bathe on the river's edge nearby. You could also be lucky enough to see baboon, impala, warthog and buffalo.
The birding is sublime.
Fishing
Royal Chundu is renowned for its superb fly fishing. Our unstressed waters vary from virgin island eddies and shallow rapids to deep flowing channels which boast the notoriously powerful Tiger Fish, numerous species of Bream and the prized Upper Zambezi Yellow Fish.
One of the biggest celebrations in Africa, the Parrot Fish Run, occurs from June to August every year. It sees millions of fish swimming for miles down the Zambezi as they get caught in the main stream. Local fishermen use hand-woven reed and palm leaf baskets to catch the fish.
Royal Chundu offers a variety of different guided fishing options - for the expert and novice alike. We provide the tackle and rods.
We are strictly catch-and-release. Unless the chefs need something for dinner...
Village Walk and Gardens Tour
This warm, authentic activity is highly recommended. Royal Chundu is 100% Zambian owned and run. We donate seeds to anyone who wishes to grow food and we buy their surplus at market rates - which means most of our produce is sourced within 4 kms of the Lodge.
Your guide, who is villager, is well versed in all the village traditions and customs, and is able to show which plants and herbs are used in traditional medicine, how to make cooking oil, how to make soap and other necessities.
You travel by boat to the village, walk around with your local guide (while villagers go about their normal lives), stop off at a small market - and then head back to the Lodge.
Katombora Island Walk
Step off the boat onto our wild islet downstream from River Lodge and discover this untamed microcosm of nature for yourself. A guided walk past python creepers, 23 baobabs, and 2,000-year-old jackalberry trees. Our experienced guides will share their knowledge with you about the traditional and medicinal uses of the flora you will come across on the island. Untainted by development or animals, beside the odd baboon, this area represents the perfect ecosystem at play.
Birding
Our guides have grown up on the banks of the Zambezi. They know the river's depths and inhabitants like the path that winds from their homes to the water itself. The calls of the African fish eagle and the sounds of the bleating-warbler have formed the background music of their childhoods.
On a cruise down the Zambezi, our guides will impart their knowledge of nature with you, pointing out the range of birdlife waiting to be sought out. Spot the finchlarks and flufftails tempting birdwatchers from the riverbank trees or the jacanas and kingfishers normally found beside hippos and crocodiles in the shallower reaches.
Choose from a morning, late afternoon (sunset), nighttime, or full-day birding safari, tailored to your individual requirements. The shorter safaris last approximately two-and-a-half hours.
Zambian Tasting Menu
One of the treats on offer at Royal Chundu is a Tasting Menu - a culinary adventure along our riverbank and through our greater national terroir, an honouring of the families living here today and the generations before them, and a celebration of our team of local chefs and waiters and their favourite tastes, textures, scents and memories when it comes to dining.
Our Food & Beverage Manager and Head Chef, Sungani Phiri says it is his ambition to showcase the traditional food of his childhood by creating a "Zambian Feast Explosion" using contemporary techniques and styles. He has built on his previous pioneering menus at Royal Chundu and pushed beyond to explore and engage with new ingredients and flavours and innovative methods and presentations.
Livingstone: Heli Flight
What better way to see the magical winding Zambezi River and the crashing of the Victoria Falls than from above in a helicopter?
You can enjoy a riveting helicopter flight over the Falls (the trip lasts approximately 12 minutes) or fly over the Falls, gorge and game park (for about 25 minutes). Look out for the wildlife and other sights below. You're going to want your camera with you on this trip!
AND MUCH MORE:
Reviews: