Little Tubu
Wilderness collection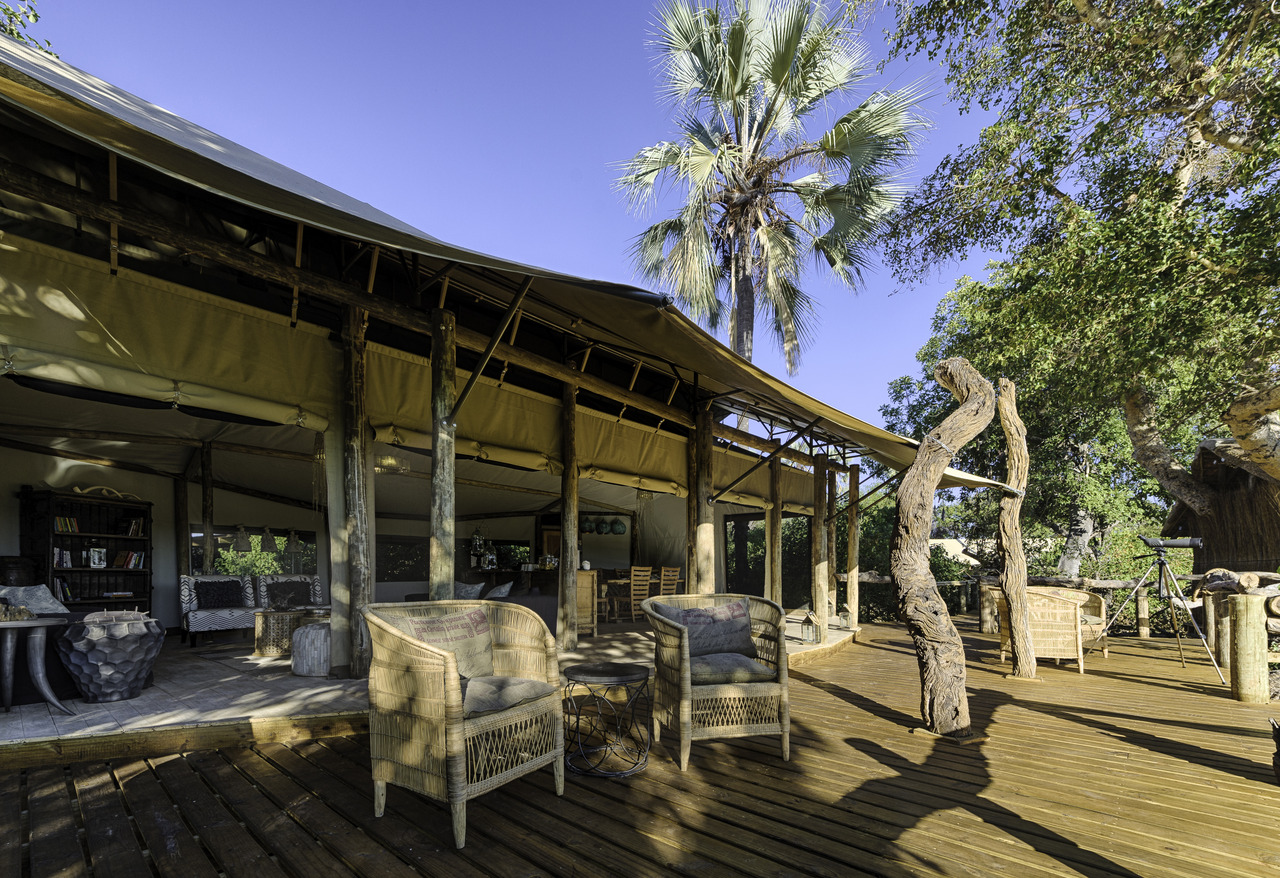 Overview
Place: Little Tubu is situated on Hunda Island, next to its sister camp, Tubu Tree, connected to it by boardwalks. Hunda Island, the largest dry land environment in this area, hosts a mix of diverse habitats, ensuring a varied game viewing experience. Activities include day and night game drives through productive mopane and acacia woodlands. During winter (May to late September), boating, seasonal fishing and mokoro trips are also offered.

Accommodation: Little Tubu has just three traditional-style tents; these and the main area are shaded by a riverine tree canopy and look out over a seasonal riverbed, which ebbs and flows with the passage of a variety of wildlife. Close by is a Star Bed for sleep-outs under the African sky.

Purpose: Little Tubu is part of the Tubu Joint Management Committee, currently facilitating the creation of a community-based cultural village and tourism venture.

Unique Selling Points
Intimate camp floating in the tree canopy

Range of activities thanks to diverse habitats, from dry land to water

Leopards are found in good numbers, and plains game concentrations are excellent in winter
Rooms:
Standard Tent(s)
Three traditionally styled tents on raised wooden platforms, each has a private viewing deck, an outdoor shower and en-suite bathroom facilities.
Elevated walkways link the tents to the main dining, bar and pool areas that are designed to blend seamlessly into the surrounding environment and maximise the spectacular views.
Activities & features:
Little Tubu - Game Drives
Morning and afternoon game drives reveal the spectacular wildlife that can be seen in the area. These are offered in open 4x4 Land Rovers each accommodating a maximum of seven people allowing each guest a 'window' seat.
Little Tubu - Night Drives
Night drives with spotlights allow you to find those nocturnal animals you wouldn't see during normal daytime drives. Porcupine, aardwolf, serval, large spotted genet and lesser bushbaby are just some of these.
Little Tubu - Mokoro Excursions
There is no better way of enjoying the crystal-clear waters of the Delta and its wildlife than by traditional mokoro (dugout canoe), an activity that showcases the smaller fascinating critters and striking waterbirds of the region.
Little Tubu - Boating
Water-level dependent, excursions in our boat allow for good game viewing in the channels further away from camp often yielding fabulous sightings of hippo and crocodile and maybe even the elusive sitatunga.
Little Tubu - Hides and Star Bed
There are two hides in the area – one of which is located about 20 minutes from camp. This hide can be transformed into a Star Bed for sleep-outs for a maximum of four people at a time. The hide is equipped with a long-drop loo.
Little Tubu - Fishing
Fishing with a limited supply of basic equipment is on offer seasonally on a catch-and-release basis.
Little Tubu - Birding
The mix of habitat ensures a variety of birdlife to be seen, from flocks of endangered wattled crane and glimpses of the rare lesser jacana on the eastern side to Meyer's parrots and Dickinson's kestrel in the west.
Reviews: